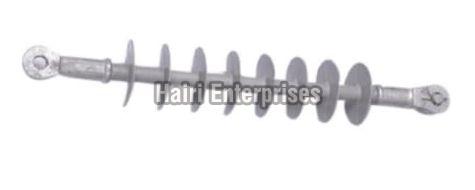 Electrical Insulators are materials that do not allow free flow of electrons or the atom present in the insulator and consists of tightly bound electrons where there is no free flow of electrical charges. A minute amount of electric charge is seen to flow. Insulators do not allow the transmission of energy. These are substances that do not let charge pass. Composite Polymer Insulator is a type of insulator that shows a better performance in frosty and snowy regions.
These insulators are characterized by a superior self-cleaning capacity. They have a smaller diameter, and therefore, the distance of the electric arc is also less. They possess a low energy surface as well.
Advantages Of Composite Polymer Insulators
The composition of composite insulators is made up of umbrella trays. It possesses a wide variety of advantages. Therefore, it is preferred largely by the electrical industry. The advantages of composite polymer insulators are the following:-
Cleans itself during rain or under wind: These insulators are versatile, and it is evident. They effectively clean themselves under the influence of rain or wind. In general, rain and wind are tagged as negative entities because they might end up polluting the insulators. But they are very beneficial in the case of composite polymer insulators. These insulators successfully get cleaned under the influence of rain or, in case of winds pressuring them.
Weigh it less: If we compare it to the porcelain insulator, it is of much lighter weight. It possesses a core rod that has higher extension strength. It is effective in making the composite polymer insulator in weighing less.
Often pollution checking is not necessary: Checking the pollution is necessary only after about 4-5 months. If you are using a composite polymer insulator, then it is certainly very beneficial for you because you do not have to worry about checking the pollution for a long period.
Easy to transport: As a result of the lightweight of a composite polymer insulator, the transportation procedure is easier, and installing becomes convenient. They even do not cost much. Therefore, a large number of Composite Polymer Insulator Suppliers in India are found online.
No chances of breakage: We often fear that the insulators might break down during the procedure of installation. But in the case of composite polymer insulators, you need not worry about breakage. It is because they are very lightweight as compared to the other insulators.
Economically beneficial for wet areas: Composite Polymer Insulators are often termed silicon insulators. Along with all other benefits, it possesses one of the most important advantages as well, that is, they have the capacity of disposing of water and are rightly suited for wet regions, both on a technical and economic basis.
From the above article, it has been quite evident that composite polymer insulators are greatly beneficial for water disposal. Not only that, they are affordable and are free from any breakage or damage. They are lightweight and that is the reason, it is easier to transport and install this type of insulator.